Welcome to my home! I know that most of you lovely readers can't actually come to my home and celebrate the holidays, so I'm participating in a couple lovely holiday home tours, via the lovely world of blogs.
Let me introduce myself for those that haven't visited before, I'm Cowgirl, born and raised on a cattle ranch in the West. Due to my happy marriage, I no longer live on a ranch but in the middle of a city. I'm trying to adjust, as well as settle into our first house, which we bought in August.
Our tree, which for the first time since we've been married, is a normal sized tree... before we had a miniature version. My decorations are what I'd like to call New York Cowboy, a nod to my husband the Chef's New York roots, and my own cowboy roots. So we have cowboys, boots, and horses mixed in with crystal, silver, and gold. Just because I'm country, doesn't mean I'm not fancy!
Love the star.
Cowboy Santas decorate the tree (which I just got from Target, and LOVE!)
The Nativity Scene that we just got from my New York in laws. Perfect!
The tree below resides in the breakfast nook so we can enjoy it in the kitchen. Last night as I was baking cookies, I was able to see the tree and look out the window at the falling snow... ahh. It's home now. This tree has super sentimental ornaments that the Chef's Nana made him almost thirty years ago.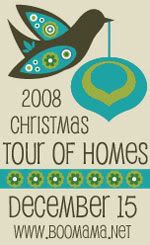 Today is exciting as both
Hooked on Houses
and
BooMama
and
Kimba
are hosting holiday tours... gotta love looking at people's fancy decorations! Stay tuned throughout the week as I continue giving the home tour.
Ya'll come back, now, ya hear?
Also check out these posts about my holiday decor:
Holiday Decor-- Part Two
Test Driving Christmas Trees